You may not have heard of The Wine Society
Despite being one of the oldest wine merchants in the UK, founded in 1874 as a co-operative to serve its members rather than create profits for shareholders, it has often been referred to as 'a best-kept secret'.

But in today's fast-paced competitive world, The Wine Society recognised it needed to strengthen its core values and redefine its position in the UK market, becoming louder and prouder in championing the joy of good wine.

So, in late 2018 The Wine Society asked BrandWorks to lead the 140+ year old mutual organisations' brand evolution, bringing its purpose alive across all member touch-points and sales channels.
Identifying The Need
Working closely with the internal team at The Wine Society and supported by the non-executive committee that guides the organisation, we swiftly identified that both brand identity and tone of voice development was needed to strengthen external awareness and perception as a long-established, yet forward-thinking organisation while also acting as a catalyst for change internally.
Putting Together The Right Team
When working with an organisation that has 140k+ members who genuinely feel ownership of the business, it was extremely important to ensure we selected partners who would be able to understand such a unique organisation.

After having led a design pitch process, we appointed Tynan D'Arcy and took the business through an insight, design and research iterative process to ensure the new identity and tone of voice resonated with members, future members and the internal team alike.
Defining The Scope
We started by looking at our current brand identity to understand how far we could stretch it, experimenting with colour, modernity & graphic devices to inject modernity and joy into the design. We tested early design routes with members and non-members to ensure we were on the right path and our existing younger members summed up our challenge well. It was to 'modernise the brand identity rather than change it completely.' We needed to blow the cobwebs off the organisation while maintaining the tradition and heritage that members love about The Wine Society.

After four months of hard work, our iterative process saw us develop a new identity that was ownable, confident and distinct, that nods to the previous identity that had been used since the 1960s, while adding modernity and movement to the background colour to aid stand out on today's digital screens.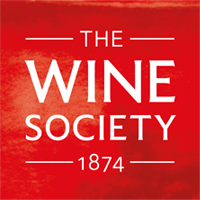 Sounding Our Best
Looking the part is only one element of the overall brand experience though, so while developing the new brand identity, their tone of voice was also refined, so they would sound right too.

Ensuring they express their brand purpose while maintaining a degree of idiosyncratic behaviour that their members love was critical to get right. Confident and expert, proud but not salesy, while ensuring their tone could flex to showcase buyers' personalities and authenticity was a difficult balance to strike. However, by using a combination of cross-functional internal expertise and external experts we were able to craft a tone of voice that is as unique as The Wine Society.
Bringing It To Life
Having evolved the identity and refreshed the tone of voice we needed to bring it to life across the organisation.

BrandWorks led an internal cross functional team over four months to bring the new identity alive across all touchpoints from the website, social media, emails and printed offers, to stationery, signage, delivery van fleet, wine boxes and staff uniforms.

While the refreshed tone of voice allowed copy to be written more easily and more personally. Copy became less stuffy and stifled and more engaging as the project enabled and emboldend the internal copy team to use their voice more authentically.


Taking The Organisation With Us
As we led the team towards the brand relaunch, we recognised that taking society members and employees with us along the journey would be vital.

We created a pre-announcement plan to flag the upcoming change to society members across digital channels and through the tastings and events The Wine Sociey runs.

We also developed comprehensive Q&A details for all member facing employees to ensure they were fully briefed.

Internally, we led a series of workshop briefings to share and embed the new identity and tone of voice with 240+ employees. These briefings enabled all employees to understand and engage with the changes we were making.
Listening To Feedback
We knew not all members would welcome the change, and we'd receive valuable feedback. We set up internal processes to track members comments so we could quickly optimise where needed.

As expected, as well as a lot of praise, not all the changes were univerally liked and there were a couple of areas we needed to address immediately. Using a font that was slightly on the small side in the quarterly newsletter when our average member age is 55+ was picked up and addressed for the very next issue.
What Did We Achieve?
From being stuffy and stifled to having renewed energy, the brand evolution is supporting The Wine Society in redefining its position in the UK market.

Brand perception scores are up, the Society is selling more wine to members than ever and it's throwing off the shackles of being the wine industry's 'best kept secret' as it welcomes new members into this unique organisation.

Internally there's also been considerable cultural change within TWS stimulated by the project. After all, if the external change is authentic, then internal change is inevitable.

In summing up the impact of the project, Pierre Mansour, Head of Wine at The Wine Society said;
..have to say feeling really good about the new branding. Lots of complimentary comments from a variety of different sources, you've achieved a mammoth task in getting it delivered.
This project is a great example of the collaborative, action-orientated approach BrandWorks delivers for clients as we pride ourselves on fixing brand and marketing challenges to help businesses accelerate their growth. 
If you'd like to discover more about The Wine Society, visit them online https://thewinesociety.com